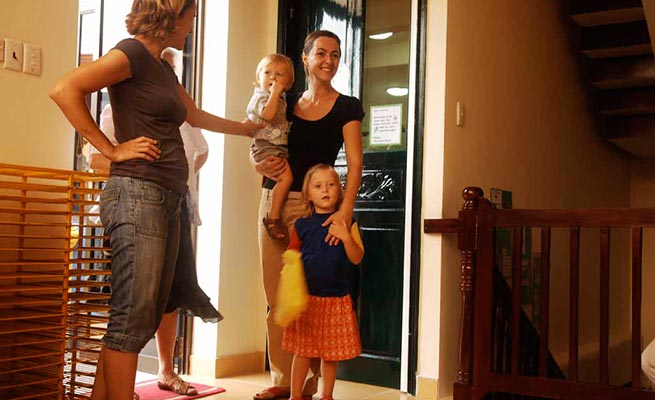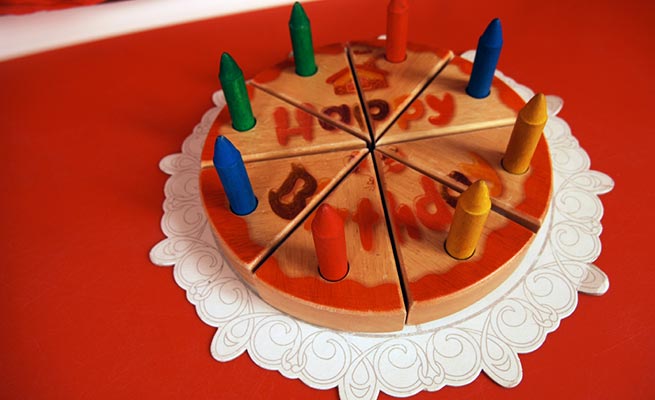 CHILD CARE FOR YOUNG CHILDREN TILL 6 YEARS OLD IN HO CHI MINH CITY (SAIGON)

SmartKids has her own way of responding to daily circumstances. Some of the clearer defined SmartKids Houserules detailed below give you a good impression on how we interact with the children.
Click on a subject for detailed information.
Every child develops in his or her own way and their own speed. This also applies to toilet training. A child is trained when ready for it. In the Early-Childhood group we start with nappy training with regular toilet stops. (Seeing other children going to the toilet will stimulate children to imitate this behaviour). The staff is alert to the child's reaction and will frequently offer the use of the toilet. The staff will reward the child with every step taken towards becoming trained. Abandoning the nappies will only be done in close coordination with the parents.
Parents provide the nappies and creams for their children.
Children in nappies will be changed when they are dirty and at toilet times.
The staff will work closely together with the parents to support the process of toilet training.
SmartKids will provide a healthy – home cooked – hot lunch. When possible we will cater for children with food limits.
A child will have many treats offered (birthdays, farewells etc). We strive to avoid sweet treats. The staff can advise on interesting and healthy treat ideas.
Birthday treats are only shared with the children present on that individual morning or afternoon.
In our childcare centres we will celebrate several International and Vietnamese special days. Besides that, all birthdays and farewell parties will be made a particular day to remember.
Birthdays are an important celebration for a child and it is part of the program to celebrate each child's birthday. Children like to be the point of focus for one day, with a hat, songs and treats etc. "Kiddies" parents are welcome to participate in these celebrations (max 2 adults). "Big Kids" celebrate their birthday at SmartKids without parents.
As mentioned, the staff will support the child with an individually adapted approach.
For a child it is important to know their boundaries. This is possible through clear and consistent rules stated in a friendly matter, and through the regulations performed by the staff.
SmartKids prefers the positive approach of praising the child for good behaviour. The word "punishment" does not exist at SmartKids. Corrective action can be done in different positive ways providing a distraction or a warning (but not from a distance nor with an overpowering voice). Additional non-verbal communication is essential when using corrective action. The staff will correct when the group or classmates are negatively impacted. This involves a rejection of the action, not of the child. Staff will avoid interaction in a conflict between children as long as they don't hurt or endanger each other. Often these conflicts are quickly resolved because no adult gets involved. If a conflict cannot be quickly resolved, staff will lend a hand by suggesting some arrangements and agreements i.e. "you play now with the dolls and you will play later" or stimulate sharing. In doing so, the staff will consider the individual characters of those involved. They will stimulate the shy children to be more assertive and will calm down the more dominant children.
If warnings are not successful and the child continues to demonstrate non-conforming behaviour, the staff will respond more firmly. A very effective way is "the Chair". The child will be confined to a special chair moved away from the group for a brief while, which puts the child out of the group activity and quickly results in a change of attitude and more conforming behaviour.
A pacifier or teddy bear is for many children their most precious support to take to bed or to find comfort in during cheerless moments. During their time in the SmartKids childcare centre, the children will be trained to distance them selves more and more from these. The child will learn to put it in her/his private basket until bedtime. The child will therefore not be blocked in his or her play and language development.
The private basket is in or near the group and should the child, need the pacifier or bear, the staff will have this comfort at hand.
Children are often tearful when Mum or Dad leave for the first time; tears are a part of childcare centre life. It is a big step for children and parents. However tears usually stop within five minutes of Mum/Dad's departure!
If you are happy to leave your child then, in the nicest possible way, the staff is happy for you, too. If, on the other hand, you feel you would like to remain with your child, then please do so.
Please do not just "sneak" out while your child is otherwise occupied - saying goodbye and reassuring him/her that you will be back soon to collect him/her, is important. Also, as difficult as it may be, it is advisable to go if you say that you are going. Changing your mind when the tears start, will only make the parting longer and harder.
One of the most frightening things for a child is being left in a strange environment and feeling that they have been deserted. Please reassure your child that you are going to do some shopping etc. and will be back to pick him/ her up.
Upon collecting the children, the parent needs to realize that the child might be active and thus will be frustrated if this play needs to be abruptly finalized.
Dropping the children off and picking them up are also important moments for parents and staff to exchange information.
Communication and cooperation between staff and parents is a vital part of the child' development. Parents are always welcome in the group and are invited to join and help in some of the activities.
There will be parent-meetings, daily talks with the parents, written correspondence (in the form of a diary) and yearly child reports.
All staff will have basic first aid instruction each year.
If a child is sick or injured and needs to go home, parents will be contacted immediately.
When a child is sick, they should be kept at home and a message left for the teacher or administration office.
Children with communicable diseases must be kept at home in all instances and the SmartKids childcare centre needs to be informed.
For all children a medical form is to be filled out upon admission and parents are asked to keep the administration updated of any changes.
In case of medical emergency the child will be brought to an aligned international clinic and parents will be notified of this by phone a.s.a.p.
When a child returns to the childcare centre after an illness, the staff assume, that the child is fully recovered and is able to join outside play.
If parents request the staff to administer medication, SmartKids will only do so if this is medically acceptable, and mistakes in providing the medication cannot have an adverse effect on the child's health.
SmartKids Downloads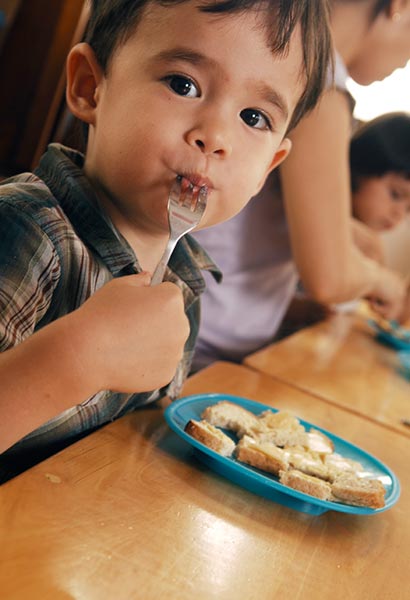 Connect to us